Welcome!
Perpetual Motion Bicycles, Inc. is a professional yet family oriented bike shop, offering parts and accessories, repair services and new and used bikes. Any product we carry (except new bicycles) is available thru this website upon request, even though you may not find it listed here. At our brick store, we offer professional service and support for all brands and levels of bikes and riders.
With 30 years experience, our technicians have stayed on top of the latest innovations. Specialty wheelbuilding, bike fitting and classic and vintage bicycle rejuvenation are among services offered.
We are open five days a week and appointments are not necessary.
As always,
INSPECTIONS, ESTIMATES,
and AIR are FREE!

Our online shopping is secure, so shop with confidence. Thanks for visiting our site and for allowing Perpetual Motion to help keep you rolling! Please leave feedback regarding our website or services.
Flats fixed while you wait.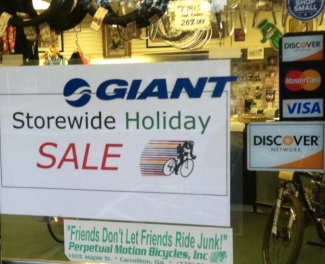 HOLIDAY SALE!
Special Prices on Bikes
Accessories
Parts and Clothing
starting November 15
through December 24
BIG SAVINGS!!
Featured Product
---
Our Greenbelt Water Bottles
are available in 3 cap colors,
Eco-Friendly, and BPA Free.
Around the top they say
'Keeping the ROLL in CarROLLton!'
Available in store only for $10.
Support your Greenbelt!
Click for a better look.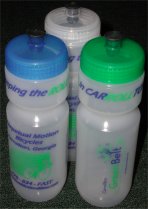 Carrollton Weather