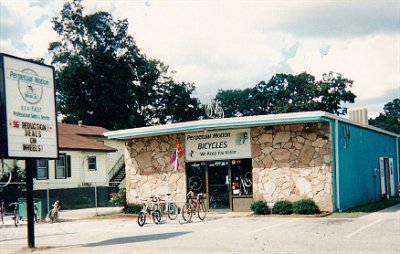 Our first storefront! In June of 1995 Perpetual Motion Bicycles, Inc. opened in Carrollton in a little building across from our current location on Maple Street. After only 15 months, we were able to move across the street into our current location, from where we have served the West Georgia and East Alabama area ever since.
SINCE 1995 (back in another century)
Before coming back to Carrollton, native Carrolltonian Allen Griffin worked for twenty years in the recreation industry, serving as Ski School Director and Mountain Manager for a number of ski resorts from North Carolina to New Hampshire.
Having started the Snowshoe Mountain Bike Program while at Silver Creek Resort in West Virginia, and having supported the road racers at Boone Bike and Touring in North Carolina, Allen brings a breadth of experience to Carrollton that includes trail design, mechanics, and riding technique.
Partner and wife Mikki Griffin brings her double business major in Management and Marketing to the table. The combination of talents the Griffins share has enabled their success in a small town in challenging times.