Bicycle repair is our specialty at Perpetual Motion Bicycles, Inc.. Years of experience have given Allen considerable insight into the workings of bicycles old and new. Little escapes his eye during repair check-ins, and after an overhaul at Perpetual Motion, bike owners will often comment that their bike never worked so well.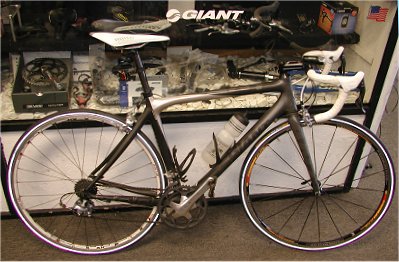 From simple tune up adjustments to complete restorations and overhauls, the thoroughness and attention to detail make a big difference in the final product.
Familiarity with the myriad of parts and components that have been produced over the past 30 years means that at Perpetual Motion Bicycles, Inc. we are usually able to identify and remedy a malfunction much more accurately than some repair shops. We keep a good assortment of used parts - often we can replace a part that is no longer produced, and the savings over upgrading to newer stuff is considerable.
"ALL BRANDS' means just what it says. If you have the only bike like yours around, then we are especially interested in it because we simply love bikes. We like to joke that 'If we can't fix it, it ain't broke', meaning that we have the confidence, resources, and experience to take on any repair. From the most basic department store single speed to the most exotic collectable bicycle that money can buy, your bicycle is in good hands at Perpetual Motion Bicycles, Inc..
For more detailed information on service levels at Perpetual Motion, click here.
---
.