The staff at Perpetual Motion Bicycles, Inc. are all dedicated bicycle aficionados, and each has received specialty training both here inhouse and as part of affiliations with other bicycle industry entities. Their familiarity with our products, how our products are chosen to best suit the needs of our customers, and with proper cycling technique and general fitness paradigms means that you as our client receives as good a value in your shopping experience as you get with our products. We spend part of every day educating people on the differences between quality bikes and the mass market, and teaching them how to ride with better efficiency and more comfort.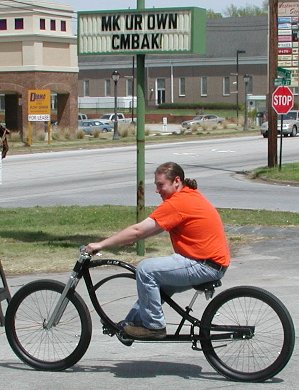 Perpetual Motion Bicycles, Inc. generally has two or three staff members in the store, all trained in all aspects of operating this small business. Whenever you visit, you will get the same fair and friendly treatment.
Perpetual Motion Bicycles, Inc. has usually had students as employees. As their parents would have us do, we always stress education before working and riding bikes. We are flexible with their schedules on a weekly and a per semester basis. Helping to educate and groom these young people to grow to take part in society is yet another way Perpetual Motion contributes to our community.
Allen and Mikki Griffin are the proprietors at Perpetual Motion Bicycles, Inc. It is they who eat, sleep, and think about the bicycle business around the clock, married as much to the business as to each other.
As members of the National Bicycle Dealers and The North Georgia Bicycle Dealers Association, the couple does their best to keep their finger on the pulse of the industry in order to best serve the citizens of West Georgia.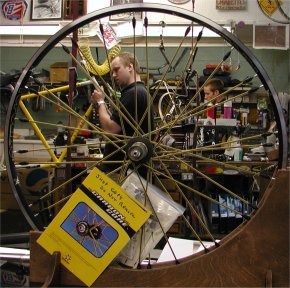 Mikki has taken on the mantle of lobbyist for cyclists rights and facilities. As a regular attendee of the National Bicycle Summit in Washington DC, she has secured federal and state financial support for the Carrollton Greenbelt (link) as well as rubbed shoulders with many of the famous stars in the sport. Click on the pic below to see her collections of 'famous bicycle people pics'.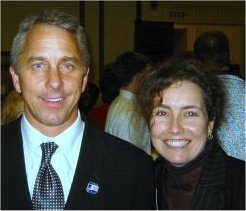 Allen looks forward to going to the shop every day. Just knowing there will always be another bicycle to breath life into motivates him to train his employees and interact with clients. A compulsive bicycle repairman, Allen has his own projects waiting in line for the few minutes he may be able to tinker with them.