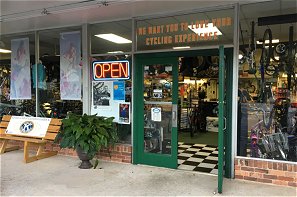 Rent a bike and ride from here!
---
Our online shopping is secure, so shop with confidence. Thanks for visiting our site and for allowing Perpetual Motion to help keep you rolling!
Please leave feedback regarding our website or services.
| | | |
| --- | --- | --- |
| | | Carrollton Weather |

Perpetual Motion Bicycles, Inc. is a professional yet family oriented bike shop, offering parts and accessories, repair services, new and used bikes, and bicycle rentals. Any product we carry (except new bicycles) is available thru this website upon request, even though you may not find it listed here. At our brick store, we offer professional service and support for all brands and levels of bikes and riders.
With 36 years experience, our technicians have what it takes. Overhauls, tuneups, wheelbuilding, and pro drivetrain cleaning are some of our specialties.
Flats fixed while you wait.
We are open five days every week.
---
As always,
INSPECTIONS, ESTIMATES,
and AIR are FREE!
---
Check out the
Copenhagen Wheel
Stop in and ride our DEMO!
The best electric bike is YOUR OWN BIKE!

Now carrying MOMENTUM
brand bikes!

Economical, elegant, and practical...
MOVE HAPPY!
---
Used Bike List
Updated 1/12/19
---
Member